---
---
---
My calling to university ministry began during the late Cretaceous period when velociraptors still roamed the grasslands of the great Midwest. That being said, I am often asked from my perspective that developed over eons of time what has changed the most since the early days of Chi Alpha. Simply put, the biggest change that has occurred is the pace of change.
This past January, the national leaders of Chi Alpha Campus Ministries, U.S.A. realized we were quickly coming up on an anniversary. April 1, 2019 marked the fifth anniversary of the tenure of our present senior national director of Chi Alpha, E. Scott Martin. Since Scott assumed his role, time, like the Millennium Falcon, seemed to slip into hyper speed.
Change was immediate. Constant change turned into the new normal. It felt like taking a long drink from a proverbial fire hose, and at other times like riding a never-ending roller coaster.
So, in January we hit the pause button and began to recount every change we could remember that occurred in just those five years. Shockingly, the bulleted list filled two pages.
As the list grew, our voices quavered, because you see, we were not just remembering the latest happenings and recent events. We realized we were recounting the unmistakable interventions of God characterized by Spirit-Filled strategy, unsolicited provisions, and the release of Godly creativity. Like in The Chronicles of Narnia, Aslan was on the loose, and He was shaking everything and everyone up.
Why is observing change important, and why these changes, in particular? We, at the National Chi Alpha Ministry Center, are convinced God is retrofitting and preparing Chi Alpha to steward a coming Great Awakening on the university campus. Like Jesus' parable of the wise virgins, we are doing all we can to be ready.
This issue of Chi Alpha Connection is dedicated to retelling for your benefit the story of the pivotal changes occurring over the past five years in national Chi Alpha. We printed it in a booklet titled 50 Changes in Five Years: 2014-2019. This magazine highlights a few of these changes, but you may freely download the entire booklet from chialpha.com/50changes.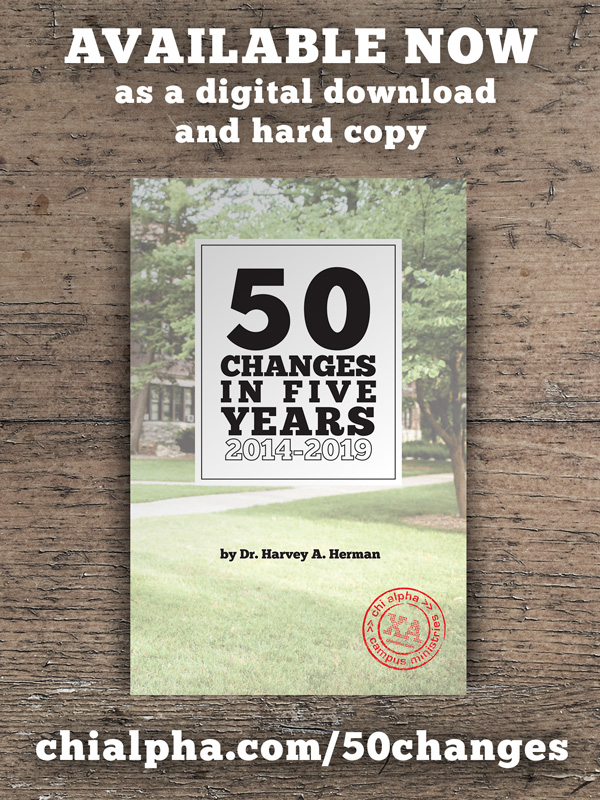 We hope you will agree with us as we agree with the words of the Prophet Samuel when he said, "Only fear the Lord and be faithful to worship Him with all your heart. Think of the great things He has done for you" (1 Samuel 12:24 NLT).
---
All views expressed on this blog are the author's own and do not necessarily reflect the view of Chi Alpha Campus Ministries, U.S.A., U.S. Missions, and The General Council of the Assemblies of God.
---
Find A Chi Alpha Group Near You