---
---
Small Choice, Huge Impact
---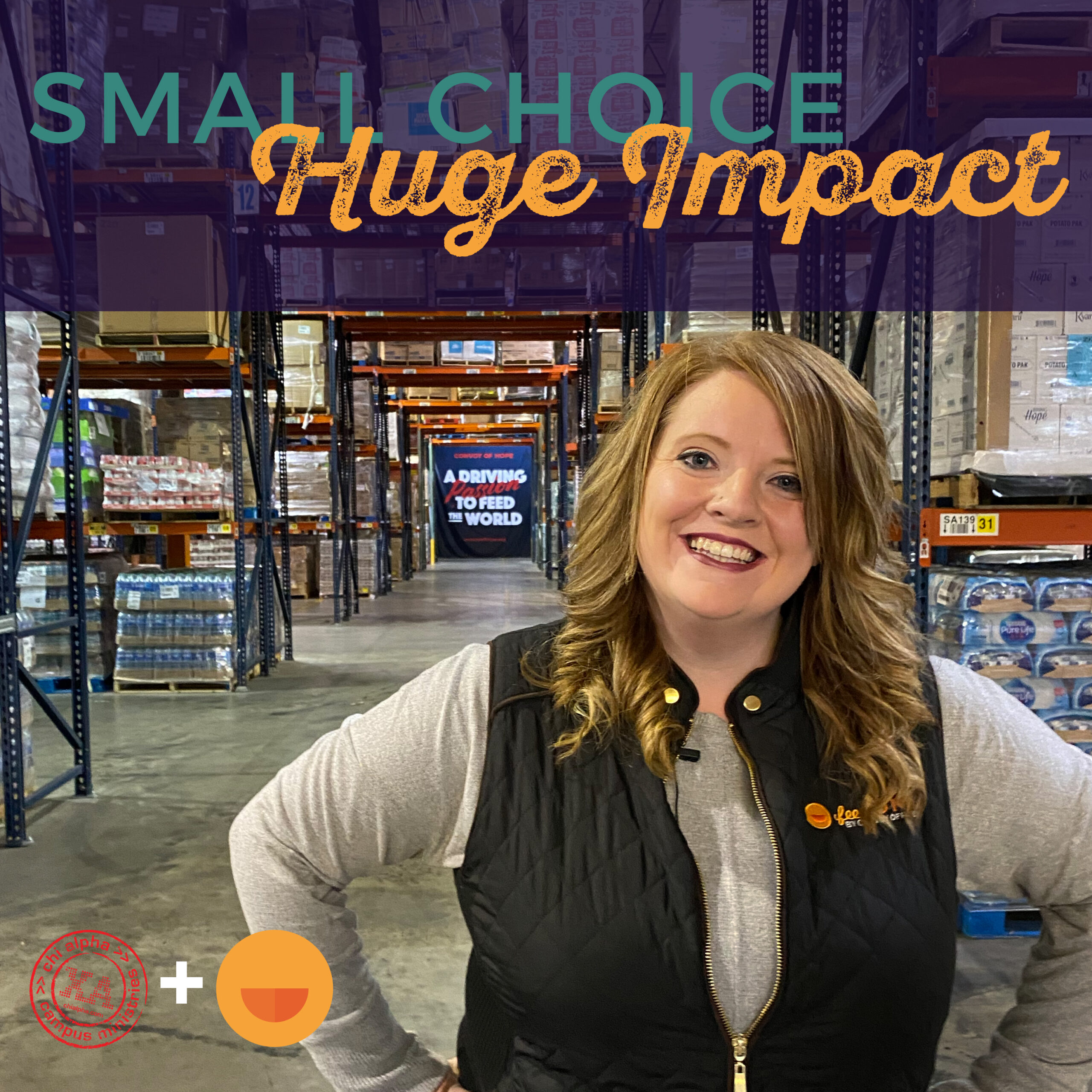 I'm the kind of person who loves random facts. Whether it's researching every actor in a show I'm watching or having the amazing ability to tell the life story of most 90's rappers, I love random facts. Recently, I was wondering just how many decisions the average person makes in a day. To my astonishment, the average person makes over 35,000 seemingly conscious decisions over the course of twenty-four hours. Now, some of these may seem tiny but could have a domino effect on a day. For example, my choice to hit snooze for the fifth time may cause me to be fifteen minutes late to work. My decision to not check the weather would make me think that I don't need a coat and then be freezing when I walked outside. See where I am going here?
Every decision that we make, big or small, has an effect on our lives. For me, one small choice, one small "yes" led to a series of yeses and to my life being forever changed.
Here is my story of a small yes.
In 2012 our Chi Alpha staff and students at the University of Missouri (Mizzou) Chi Alpha were presented with an incredible opportunity. Our campus pastor had been invited to a meeting about a new initiative Convoy of Hope was starting. The vision was simple: ten dollars would give a child food, education, and exposure to the Gospel for a month. That ten dollars was the cost of two Starbucks coffees, the cost of my hulu subscription, an amount I didn't even notice leaving my bank account monthly. It seemed easy enough, but I had one question, "Why wouldn't we do this?"
That question didn't have an answer because our ministry dove headfirst into the mission. We were excited, inspired, and challenged. We were jumping into freezing cold water and auctioning off ridiculous gifts. We were coming together as a community, as the Body of Christ, to change the lives of children all over the world. Each year we got more creative and competitive while raising more money. It wasn't about the money but about the impact that we knew it would have. That first year we raised around $1,300 and by year seven we were raising over $40,000 a year. This isn't to brag on anyone but Jesus. Chi Alpha as a nation aims that "every student feeds one" and in Mizzou Chi Alpha, every student feeds at least one child and we know each campus can do it with time and ingenuity!
I'm still amazed at what Jesus did and is continuing to do through students. My students challenged me. I saw them sacrificially giving of their finances and their time. I saw them doing fundraisers in uncomfortable situations because they knew their momentary discomfort was nothing compared to what thousands of children all over the world go through every single day. It challenged me to step out of my comfort zone for the sake of someone else. I found myself choosing "yes" to a marathon of fundraisers over the course of a month; a lot of which had me choosing "yes" to act ridiculous!
It made me see more of the Father's heart; showing me that there was so much more to life than my little circle of friends, my day-to-day routine, and what I thought was the Lord's plan for my life. I became more creative, compassionate, and committed to a cause. I realized that even on my worst day, I'm so incredibly blessed to not wonder where my next meal was coming from. I never had the overwhelming fear of not being able to get an education and I learned about Jesus at a young age. I felt my heart growing more and more for these kids, kids that I may never meet on this side of eternity.
I knew that I had to do more. After six years of partnering with feedONE through Mizzou Chi Alpha, I felt the Lord asking the simple question, "Angela, what if I ask you for more?'' While I could have assumed that He wanted me to give more monetarily, I knew that it was about my future, not money. I went to my directors who are also my pastors and dearest friends telling them what the Lord was speaking with the preface, "Please don't think I'm crazy." To my relief, they didn't think I was crazy but walked alongside me as I navigated through the next couple years.
In fall 2019, I felt that it was my last year in Chi Alpha and that the Lord had not only called but released me to go work for feedONE full-time. In March, I preached my last (virtual) sermon for Mizzou Chi Alpha, letting my students know what the Lord was calling me to. While there was not a position yet, I had no place to live, and really no plan, I knew I had to be obedient. I knew that I needed to trust Him and trust the Word when it says "He who promised is faithful." This time I had to say "yes" in a much bigger way.
Through a series of events that would be too long to put in a blog, I was offered a position with Convoy of Hope and feedONE that was as if it was made with me and my strengths in mind. Each day as I sit down at my desk, I have to say thank you to Jesus. Thank you for the crazy journey I've been on and thank you that He gives me the opportunity to say yes.
I can confidently say that all these little choices, the simple "yes" to do a fundraiser, the simple "yes" to champion feedONE on my campus, the simple "yes" to represent at a conference, led to my life being forever changed. Friends, my simple everyday "yes" made a greater impact on children all over the world. Me saying no to an extra coffee and saying yes to a mere $10 gift meant they would be fed, receive an education, and hear about Jesus. My heart so desperately wishes that I could meet some of the impacted children like Kate, Selenia, Sheri, or Grady face to face. While that may not happen on this earth, what I know is that from my yes, your yes, your students' yes, there will be a day when children from all over the world will be in heaven with us. So, whether you are a student, a staff, or director, I want to challenge you to ask yourself, "What is the Lord asking me to say 'yes' to today?"
---
All views expressed on this blog are the author's own and do not necessarily reflect the view of Chi Alpha Campus Ministries, U.S.A., U.S. Missions, and The General Council of the Assemblies of God.
---
Find A Chi Alpha Group Near You