---
---
Stepping into the Journey
---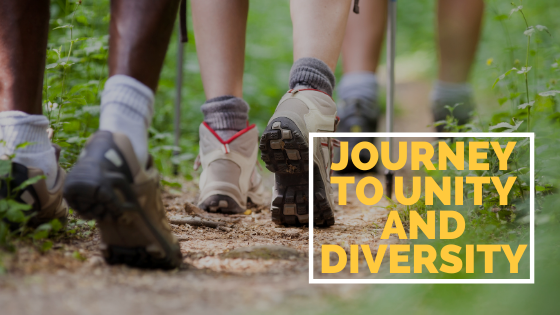 "Integrative." That's how Jen Moss from University of Virginia Chi Alpha describes her experience taking the Journey to Unity and Diversity course. During fall 2020, seventy-one Chi Alpha staff and interns went through the four-week online course created by XA Diversity. It incorporates both video and written lessons paired with cohort discussions and other assignments.
"This course broadened my understanding of what can be different between people," Moss continues. "I cannot assume what I know of someone's experience and must instead continuously be humble in my discipleship relationships, especially when students are from a different background than me."
Covering topics such as the image of God, principles of hospitality, and potential cultural pitfalls, the course is designed to help staff grow in their understanding of Kingdom diversity from a biblical perspective with practical applications.
One highlight of the course is the weekly cohort group discussion where participants from around the country engage in conversations as they process what they learn. Along the way, they share ideas and experiences they've had in their respective Chi Alpha groups.
"I was afforded a space to wrestle and further the convictions of seeing the Church restored to what it looked like when it was first established," Stevens DeJesus from Yale Chi Alpha says. "This was worth all the discomfort and process of bringing healing and hope to my heart and soul."
For more information on the course, go to drivingdiversity.org/training.
---
All views expressed on this blog are the author's own and do not necessarily reflect the view of Chi Alpha Campus Ministries, U.S.A., U.S. Missions, and The General Council of the Assemblies of God.
---
Find A Chi Alpha Group Near You